The Book
:
The last battle was something else compared to the other events in the beginning of the book. Harry's falling in love with Ginny made it whole lot interesting, but then, I don't think Rowling did them justice.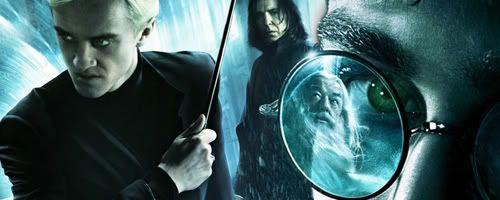 The Movie:
It wasn't all that. And to be honest, if I hadn't read the book I wouldn't have understood a single thing. The way they made up a whole new scenario of Harry falling in love with Ginny was a disappointment, and yeah, I didn't feel the chemistry between both of them. Overall, Daniel's acting sucked. Big time. Not to mention what he has done to his hair! Emma Watson had a remarkable part in the movie along with Rupert. The movie focused on Malfoy's weird attitude more than the whole story about The Half-Blood Prince's Potions copy. Either ways, Tom Felton never disappoints. He pulled the whole 'nervous & anxious' yet 'cool & calm' attitude just fine. Kudos. As expected, the book is always far better than the movie. 5/10.

Is it just me or Alan Rickman had actually gained loads of weight?